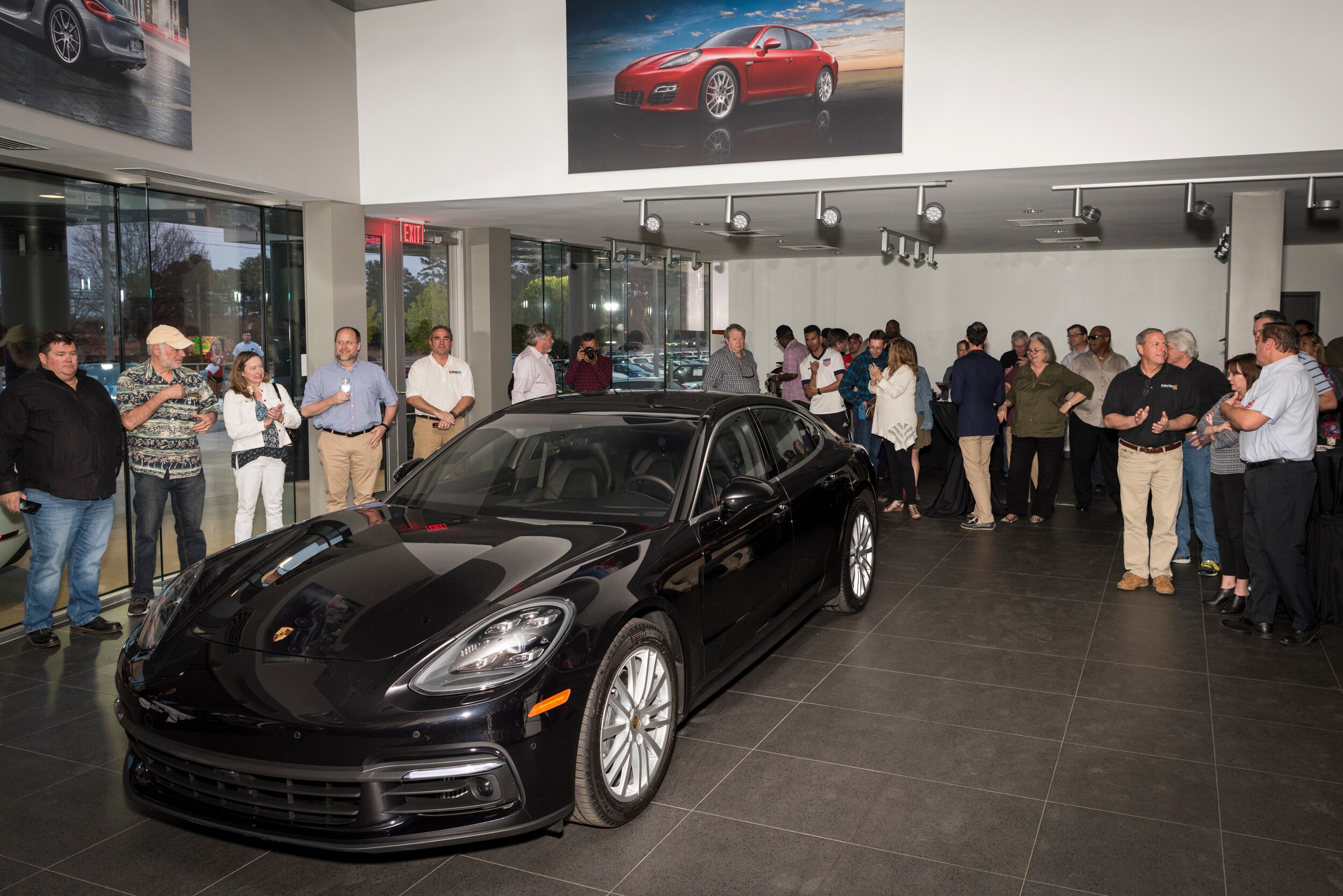 Recently, Porsche of Greenville held a special event where guests could be some of the very first people to see the all-new 2018 Porsche Panamera Turbo. The event took place on March 20 and it was a spectacular success.
Guests from all around came to see the official unveiling. Once the sheet was removed, the stunning black 2018 Porsche Panamera Turbo was revealed to the crowd. It was truly a sight to behold!
The event included great small plates, including Beef Sliders with Ketchup "Leather", Garlic Aioli, and a Sesame Bun; Tiramisu, mini fruit tarts, shrimp on ice, meatballs, pasta, and more. There was also live entertainment for our guests to enjoy.
Our Guests thoroughly enjoyed getting the chance to look at some of our great Porsche vehicles.
The new Panamera has a mantra of having no fear for upsetting the status quo. 67 years ago, Porsche decided that they wouldn't fear what the world had to say about cars. They wouldn't worry about conventional wisdom. Instead, Porsche would choose to make cars that they desired, wanted, and dreamed of. This has clearly been done with the all-new Porsche Panamera.
Breaking convention, the 2018 Porsche Panamera did a lot of things different all while unmistakably being a genuine Porsche. It was created with the same spirit that the first Porsche had back in 1948.
The Panamera is a respected and sought-after member of the Porsche family and now it is time to take the next step with the new Panamera.
The 2018 Panamera is even more dynamic. In its most powerful configuration level, with the 4.0-litre twin-turbo V8 engine, it sprints from 0 to 60 in only 3.6 seconds. It is also exceedingly agile. With a systematic lightweight construction, coupled with effortless power delivery, the Porsche Panamera ensures handling that is worthy of a purebred sports car.
To see more from our event, make sure to check out our Facebook page.